The Okanagan's Water Story
There is little doubt the Okanagan in on the front lines of climate change, shifting between flooding and drought, and extreme fire seasons.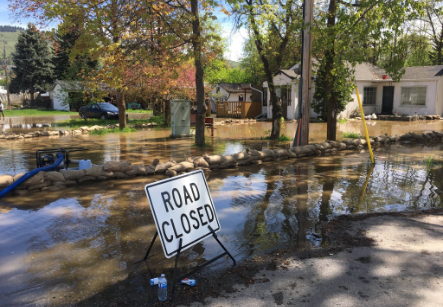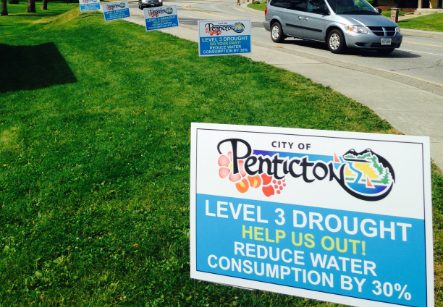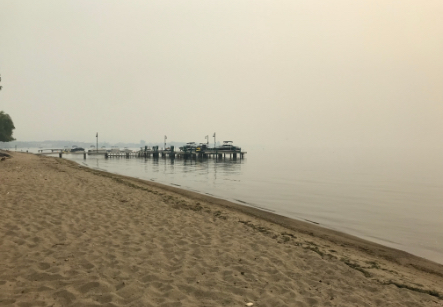 In the last few years, the Okanagan has experienced flooding, drought and fire all within a few weeks of each other. Scientific research indicates that these extreme weather events are going to become more common in our valley, and beyond.
As we work to address these events, Make Water Work is aimed at helping residents improve irrigation practices, create resilient landscapes that can handle wet and dry conditions, and ensure a healthy, sustainable water supply for our valley.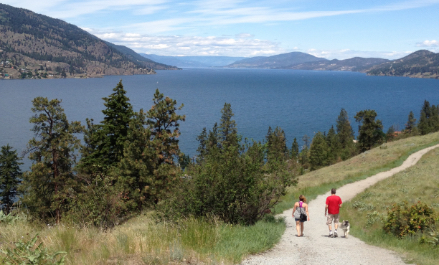 There is

LESS water available

per person in the Okanagan than anywhere else in Canada. (Source: Statistics Canada, Human Activity and the Environment: Annual Statistics 2003. Catalogue no. 16-201-XIE, p. 8.)
The Okanagan has one of the highest rates of water use per person in Canada.
The 2nd largest use of water in the Okanagan is used on our household lawns & gardens.
The 'Myth of Abundance' & the Okanagan's water budget
Our lakes can be deceiving. Although it may seem like we have an endless supply of water, Okanagan Lake (the primary source of our water) only fills 1.5 metres in an average year. This happens thanks to melting snow and precipitation, mostly in the spring.
In fact, Okanagan Lake is managed to not hold more than 1.5 metres of spring inflow (the difference between low and high water levels) to protect the valley from flooding. And in very dry years, the lake may not refill a full 1.5 metres.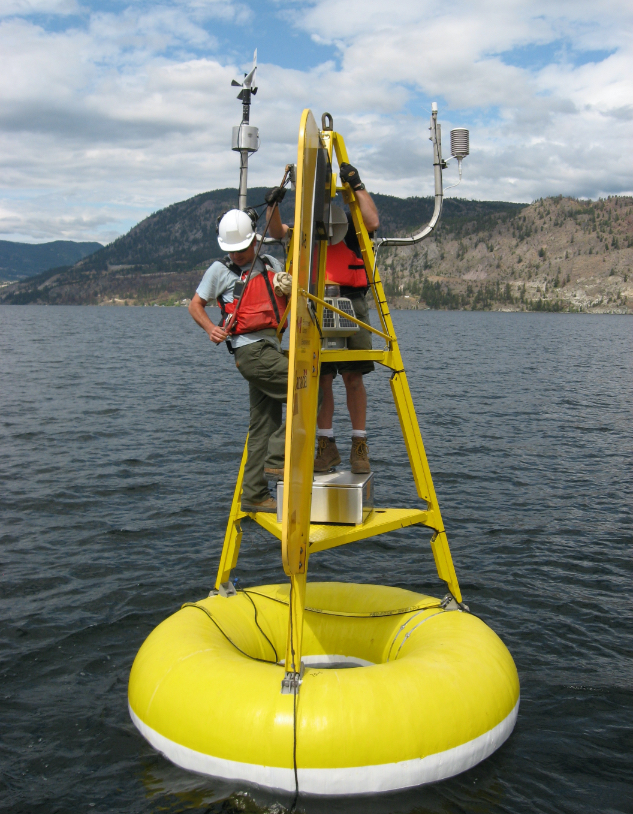 Photo: Evaporation research bouy on Okanagan Lake, July 2011. Photo courtesy of Environment Canada.
Water "loss" in an already water-stressed region
Water managers must also consider evaporation, or water changing from a liquid to a gas due to an increase in temperature, when maintaining lake levels.
Research has found that between 725 and 835 mm of water evaporates from Okanagan Lake each year, and is therefore unavailable for our use.
As noted above, in years with low snowpack and minimal precipitation, the lake may not fill the 1.5 metres, but evaporation and our demand for water still occur. A recent example of this was the drought we experienced in 2015, with wildfires breaking out around our parched valley, escalating water restrictions, and concern that dwindling water supplies would impact farmers. At the same time, there was worry that there wasn't enough water left in some streams for fish returning to spawn.
How we spend our water budget
Unless it's a water-short year, the lakes are managed to try to ensure the Okanagan has 1.5 metres of Okanagan Lake capacity available for usew. This is shared with the fish and other wildlife, and between many human users, including residential, agricultural, commercial and industrial users. At the same time, demands on our water are growing as our population increases, and as agricultural needs increase due to climate change and resulting changes to growing conditions.
Each year, provincial water managers draw down Okanagan Lake in the winter to make room for spring freshet, to reduce flood risk and ensure enough room for the expected 1.5 metres to carry us through until fall, when people turn off the irrigation and the fish have returned to spawn. This draw down takes into account how much water is in our snowpack and how much spring precipitation is expected to refill the lake.
As people in the Okanagan begin to irrigate in spring, we withdraw from the water stored in the lake. As the summer gets hotter, irrigation increases. This continues into fall.
Residential Use
Recent research by the Okanagan Basin Water Board (OBWB), provides an account of how much water is used in our valley, and when. As the chart below shows, residential outdoor water use spikes in April when we turn on the taps for our lawns and gardens, and continues into October. Some people even water in November.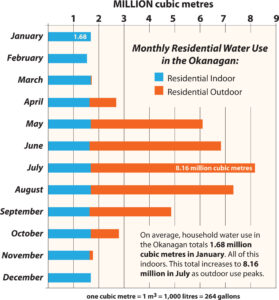 Agriculture & Other Use
Interestingly, the research also shows which sectors use what amount of water, and when. And, as one might expect, the greatest amount of water is used April to October, due to crop irrigation. While water use by some sectors remains stable throughout the year (e.g. commercial), other sectors use more mid-spring to mid-fall to meet outdoor watering needs (e.g. golf courses, parks, and agriculture).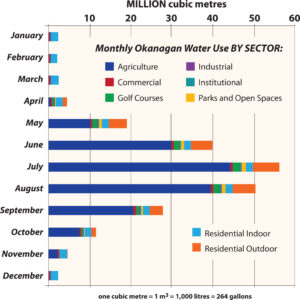 Agriculture accounts for the largest use of water, but we refer to this as "working water" since it feeds our communities and economy. Even so, there is no room for waste in an area known as Canada's most water-stressed region. As such, the OBWB is working closely with water utilities in the valley and farmers to be WaterWise. Learn more about one such initiative here.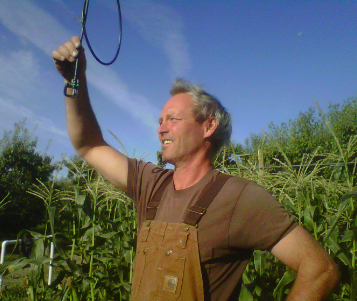 Photo: Okanagan farmer inspects his irrigation system.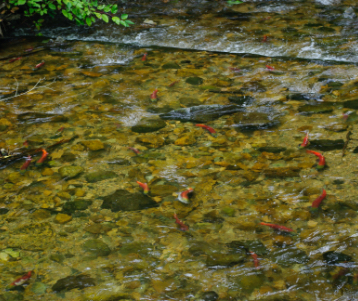 Photo: Kokanee spawning at Hardy Falls, Peachland. Photo courtesy Regional District of Central Okanagan
It's important to be aware of our water use, and even take steps to reduce our use during these peak times, since this is also the time when farmers need water for crops. Fall also marks the time when salmon, returning to their home waters, need sufficient water to spawn.
As the valley grows and costs of treating water rises, it becomes more important to make wise choices about how we use our water.
If you water (not everyone does)… make sure to follow the tips

here

to get the most from your water.
Find water restrictions for your neighbourhood using the drop down menu below.
For more information on what you can do in and around your home, and in our community, to be WaterWise year round, visit www.OkWaterWise.ca.
More links